A/N: There was supposed to be an image of Mr. Matisse and Mr. Prelude at the very beginning but I seem to have lost Mr. Prelude. :X So excuse that little fact and enjoy. <3
————————————————–
Turns out Mr. Matisse – the man I was supposed to convince of our cause – was actually thinking about entering a partnership with Mr. Prelude – the businessman that had first voiced his opinion about inter-color relationships and my father's sculpture. The only obstacle that stood in the way of their partnership was their varying opinions on the aforementioned issue. Mr. Matisse was not convinced that the government of Berry had lied to their citizens for all these years and had told Mr. Prelude he would require proof if he was expected to tarnish Matisse Inc.'s reputation. Mr. Prelude, of course, had been a target of the Resistance's violence and a victim of the government's negligence himself but could not convince Mr. Matisse to join the cause. He did not let this deter him, however, and began to look for adequate evidence. His search led him to the Uprising's base in Bubbleport where he had been tipped off that the little girl pictured in 'Can You See Me Now' was real. Not only was she real, but alive and healthy and helping out the newest branch in Sugar Valley.
Noir seemed to believe that if Mr. Matisse partnered with Mr. Prelude, and thus joined the Uprising, that it would secure their victory in Bubbleport. I don't pretend to know a lot about business, politics or revolutions but I assumed that meant Mr. Matisse was a very powerful man. An enormous amount of pressure fell onto my shoulders, my stomach whirling uncomfortably as I fixed the scarf on top of my head. I didn't know if I could do this. If he said no, didn't join us, it would be all my fault. What would I do then? I certainly couldn't show my face back at the Sour Apple again.
"How are you doing?" I didn't have to turn around to know who was speaking; Noir's deep voice had already become engrained into my brain. I threw a thumb up sign over my shoulders as I fastened the last button on my silk white blouse, my face still lined with apprehension, "You shouldn't worry so much, we got this." His encouragement was well meant but it didn't quell the jitters rampaging through my veins.
I tried not to linger on that thought for too long as I pushed a strand of my yellow blonde hair behind my ear and out of sight. I took two tiny steps back, looking at myself in the small mirror that hung over the porcelain sink. The outfit Eden had bought me fit, albeit snugly. White slacks accompanied by the button down blouse made me look quiet professional, which worked well for the meeting the three of us were about to attend. Well, Eden was following us to the lobby, at least. Said he didn't trust Noir enough to put my life completely in his hands – imagine the argument that fueled.
"Almost ready?" Noir yelled from nearby.
I emerged from the bathroom slowly, trying my best to balance on the thin heels that were attached to my feet. I had no idea how women danced in these, I could barely walk, 'Yes.'
Purple lips pulled up into a smile and my stomach instinctively flip-flopped, "Good. We have a long walk ahead of us. Eden is waiting downstairs." He paused, looking at me with a lopsided smile plastered onto his face, "You look good, Estelle. Maybe he'll hire you." He ended his sentence with a wink, opening the door wide enough for me to scurry through. I did so as quickly as possible. I didn't want him to notice the blood rushing to my face.
*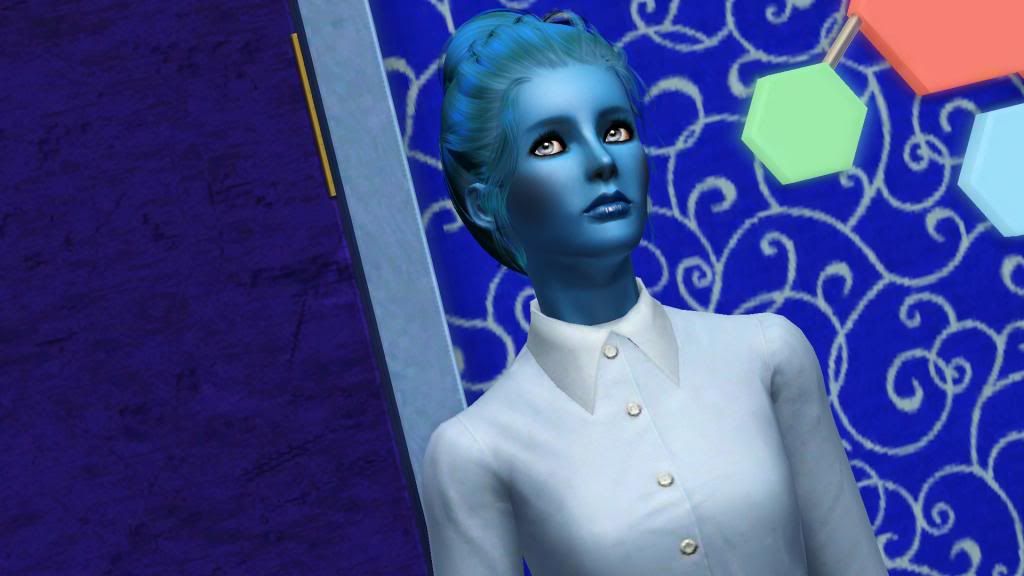 "Mr. Noir and Miss Spring." The hairs on my arms stood up as the sickly sweet voice called out our names, "Mr. Matisse is ready to see you."
Noir stood promptly and the secretary's blue lips pulled into a frown as her eyes flowed up and down the length of his body. She obviously was not impressed with his oversized sweater and jeans, or perhaps it was the perpetually shaggy hair that fell into his eyes. Either way, once I stood up she let out a deep breath, her shoulder relaxing slightly, "This way."
She beckoned us forward with a wave of her pale blue hand, turning on her heels and heading towards the large door placed strategically beside her desk. I winced, taking absurdly small steps in order to keep my balance and ease the ache that was slowly worming its way up my ankle. As we approached her she flashed us a smile that did not quite reach her eyes and opened the door for the two of us.
We stepped inside, neither of us saying a word for the other as we took in the lavish furniture that decorated the large office. Behind the large oak desk there was a blue male, his hair swept back and groomed. He was currently bent over paperwork, his attention caught elsewhere. I stood there, unsure of what to do with myself, until Noir strode forward and plopped himself down into one of the two plush seats that were available. I blushed, positive we should have waited to sit until they were offered to us, but slowly began to make my way forward. I was beside the open chair when Matisse became aware of our presence.
"My apologies," Matisse began, though he still had not looked up from whatever files had captured his attention, "There is no need to be so nervous, Miss Spring. Take a seat." I wondered how he knew I was nervous, though my knees were quaking and my hands shivering, when he hadn't even spared me a glance. I did as I was told, stuffing my hands between my legs in hopes that they would soon calm down.
"Mr. Matisse, we've come all this way. I'd appreciate your full attention." Noir stated bluntly, his face deadpan. I cringed. Even though Noir spoke in a composed and elegant manner, it did not change the fact that he risked offending the very man we had come to convince.
I was more than surprised when bright blues rose to meet Noir's heated lilac's, smirking, "How incredibly rude of me," Matisse sat up straight, folding his hands in front of him. He did not look apologetic in the slightest, "You must understand that I am an incredibly busy man."
"Yes, I do, sir. And I'm sure a busy man like yourself can appreciate how much of my time I have set aside to meet with you."
I was beginning to entertain the thought of kicking Noir to make him hold his tongue – he was being extra feisty – but Matisse's laughter shattered the silence that had fallen over the three of us before I could gather the courage, "You're gutsy. I like that," He nodded, glancing at me before returning his gaze to Noir, "Show me what you've got, kid."
Noir leaned forward, looking intently at Matisse, "I'm sure you've seen 'Can You See Me Now'?" Matisse nodded, looking rather bored at this turn in the conversation, "What if I told you the little girl was real?"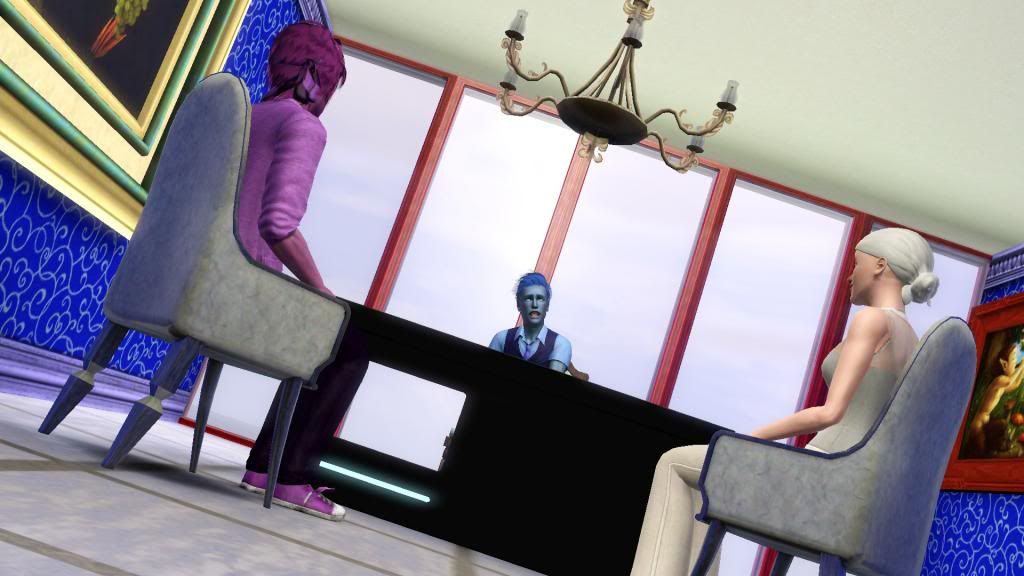 "I'd tell you that you're crazy."
"And I'd tell you that you're looking at her." By now Noir's grin was so large that it practically split his face in half. Matisse, on the other hand, looked startled and confused. His eyebrows were scrunched together, the wrinkles in his face becoming more apparent. It was only as his eyes slowly trailed away from the fire blazing behind Noir's eyes to my more docile figure that clarity entered his bright blues. I averted my gaze almost immediately, the butterflies fluttering in my stomach at full force. I was certain I was going to be sick.
"Her?" It was a question more than a statement but I nodded, eyes still trained on my shoes. Anywhere but him, "You're certain?" I wanted to snap at him that I was certain of my own heritage but I held my tongue or hands rather, nodding shyly again.
"And what proof do you –" I had already assumed this question was going to come up and was prepared. Despite the nausea welling up within me, I raised one my hands to my head and gently tugged on the scarf that held my hair up. The yellow locks cascaded down my back before he had even finished his inquiry.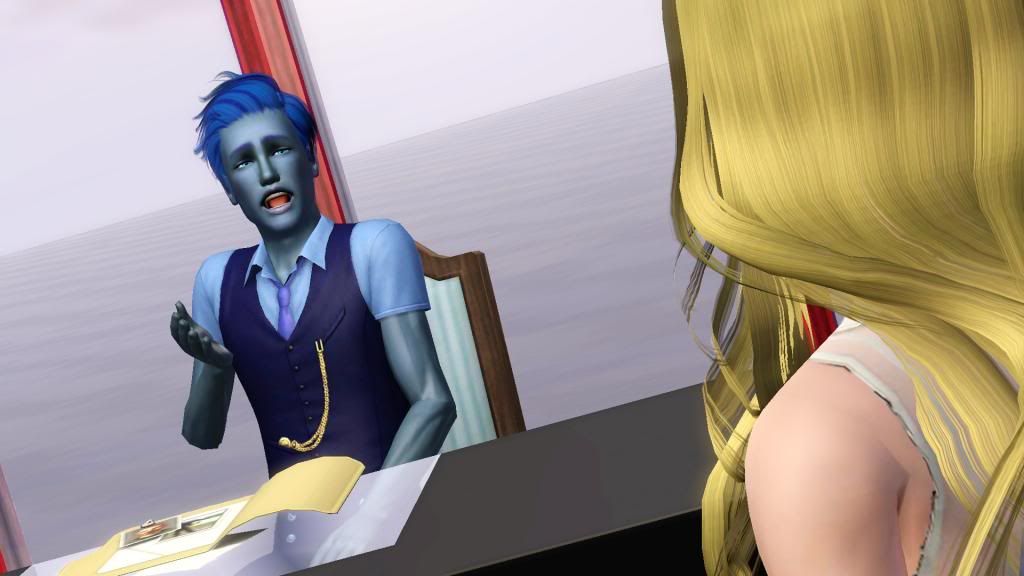 He was stunned into a moment of silence before his eyes visibly harden, disbelief tensing his figure, "Hair dye." He scoffed impatiently.
"Hair dye is illegal." Noir pointed out, "has been for years."
"Yes, but so are a lot of possessions I have acquired over the years. Nothing is impossible to find if you know where to look."
I frowned at Mr. Matisse's statement. Something about it rubbed me the wrong way and I suddenly had a bad feeling in the pit of my stomach. Noir, however, didn't blink twice. Instead he looked at me, "Would you be able to take out your contacts?"
I nodded, signing to him that I would be unable to put them back in but Mr. Matisse's strong, authoritative tone caused me to hesitate in the middle of my sentence, "I'd appreciate it if you would not converse in a manner that I cannot follow. It is rude and frankly inappropriate given the situation."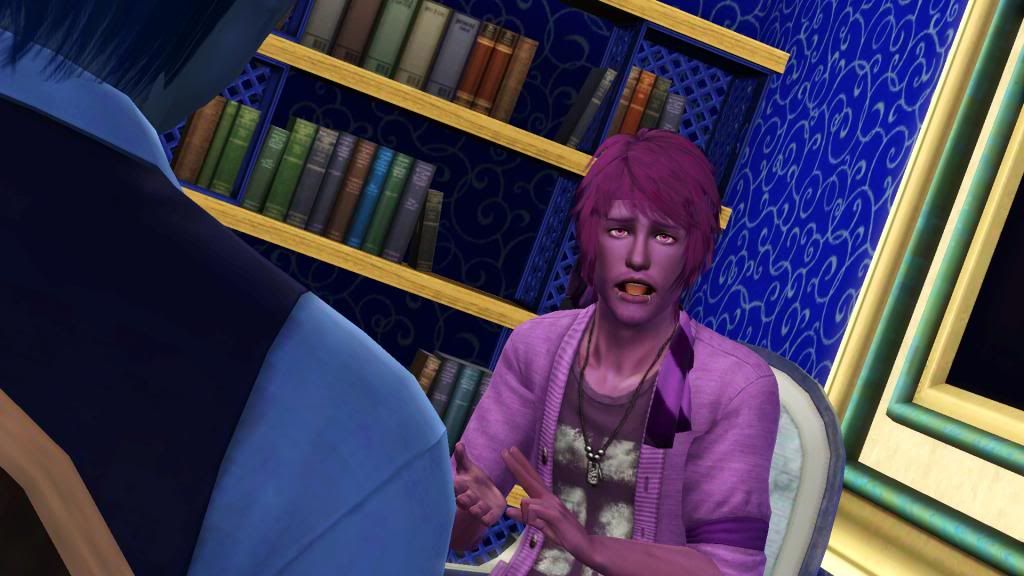 "She's mute." Noir said dryly.
Matisse merely shrugged, "I am afraid that is not my problem."
If looks could kill Noir's profession would be staring. Lightly touching his arm, I shot him a small smile to calm down the lilac berry. I could tell he was approaching his boiling point fast and once he reached it nothing positive would be accomplished in this meeting. Of that I was sure.
It only took me a second to take out the little pieces of plastic that changed my eyes color. I balled them up in between my index finger and thumb, hiding my irises behind lashes and lids. Taking a deep breath I finally looked up, yellow clashing with blue as we held each other gazes.
It was Matisse who eventually broke eye contact, gaze dropping down to the file in front of him again, "I need to process this." He finally conceded, standing up and holding his hand out in front of him, "Thank you for your time, I will contact Mr. Prelude shortly and he will tell you my final verdict."
Noir stood, much calmer than he had been just a few seconds prior, before shaking the hand that had been offered, "No, thank you."
*
Luckily, Eden had a pair of sunglasses on hand for me to use on the walk back home. Noir was reciting what had happened to the teal berry excitedly as we walked down the now familiar city streets. They almost sounded like friends – almost. Despite the fact that I had walked this same exact path an hour ago, I was still gazing around wide-eyed, taking in every sound, scent and color that flooded my senses.
Perhaps that was why I was the first to notice the crowd of people as we crossed a large intersection.
There were at least fifty people gather around a podium, some holding signs and others shouting at the top of their lungs. We were too far away to make sense of what they were saying – the signs were all just a blur of color from here – but the ear piercing wail of sirens soon engulfed the sound waves as multiple police cruisers began to encircle the protesters.
By now I had stopped walking, in awe of the scene unfolding in front of me. I vaguely heard Noir trying to get my attention and felt him tug at my shoulder gently. I shrugged off his touch; much too engrossed as the officers began to step out of their vehicles with weapons in hand. I felt the air in my lungs still as one orange cop raised his nightstick and slammed it into the side of a young green woman. After that chaos broke out – the protesters trying to overwhelm the ten officers with little regard for their own life. I heard Eden say something loudly, urgently, but he sounded so far away. I couldn't understand what he was shouting about.
I did not realize I had started running towards the conflict until my hands were grasping either side of the wooden podium, air wheezing painfully out of my lungs as I gazed straight ahead at the blood spilt pavement. In my haste my scarf had come undone and I was loosely aware of my sweat drenched hair tickling my exposed shoulder blades and the fact that my vision no longer had a dark tint to it. It wasn't until I saw a teenager, his skin a brilliant yellow, being beaten by one of the officers that I knew I had to do something. I couldn't just stand there and do nothing – not again.
"Stop it!"