AN: I feel like the end of this chapter is sort of blah but I don't know how to fix it so I am just going to publish this now. Ignore the fact that Estelle's tights change halfway through the chapter.
___________________________________________
I never realized how stressful living with new people could be. We had only been together a little over thirty hours, if you counted the car ride over, and I'm pretty sure Noir already wanted to strangle Eden. Actually, now that I think about it he always wanted to strangle Eden but that was beside the point. We were a potluck of personalities – most of which clashed, to be honest. When Eden wasn't planning his own activities and rallies, he was attempting to help Noir organize his. Only, Noir didn't want his help and seemed to think that everything would work out fine in the end as long as he had me around. Shiloh was constantly babysitting me; which was really just her sitting in the room making sure I didn't give away our position while she berated every molecule of my being.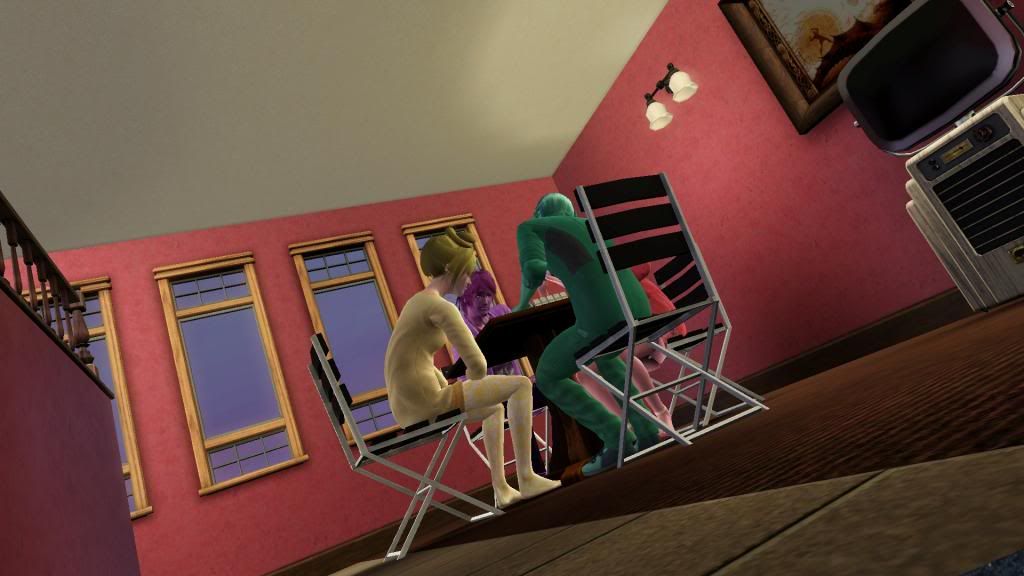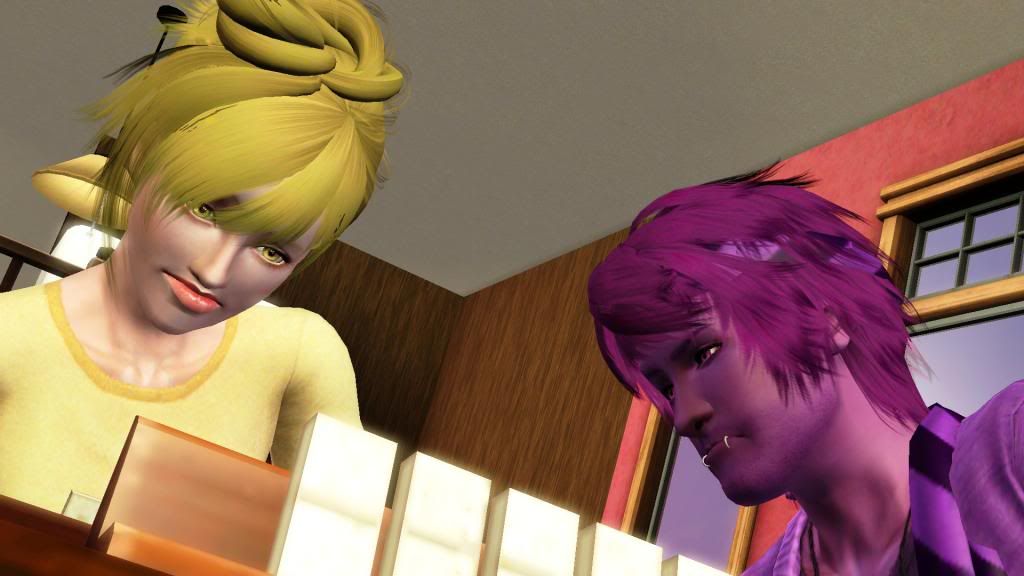 Noir spoke to me about Shiloh. It was a short conversation at best and took place as she was showering but it led us to where we were now; in the living room playing a game of dominos together. All four of us, actually. I told Noir I would put up with Shiloh on the sole condition that he played nice with Eden.
Competitive trash talk escaped Noir every single turn and sometimes Eden would argue that Noir was breaking the rules, but it was nothing that hindered the flow of the game. Thinking back, I guess it was a miracle we even made it halfway through without any major mishaps. I'm not sure what set Shiloh off – I had been quiet the whole time, trying to be as discreet as possible – but I honestly still didn't really understand the directions and needed help making my next move. Noir leaned over, looking at my chips, before he began to sign back an answer to my inquiry. We were in the middle of a conversation when she slammed her fist onto the table, sending a few pieces flying into the air. I jumped, not expecting such a violent reaction, and could only cringe as she started to hiss, "This has got to be a joke."
All three of us stayed silent, not really sure how to respond, "How can you stand this? She's like a child – never been on elevator, never played dominos, can't fudging speak!" Her voice gradually rose and all I could imagine was glass shattering like in those cartoons I had watched when I was young.
"Shiloh," Noir sighed, leaning away from me and turning a tired eye to her. He looked much like a parent whose hyper child had acted up one too many times that day, "please, let's just play the game."
"I would be glad to play the game if she knew how to! This is the fourth time she's had to ask for help, it's ridiculous. This isn't hard; it's not a fudging science experiment. It's dominos!"
"She did not grow up like you or me," Eden chided calmly, "the princess is trying her best."
It probably would have been better if he hadn't said anything, "Ugh. And you, you make me wanna barf. With your 'princess' and civil tone. Why don't you just say what you want? What's holding you back from being honest?"
Eden smiled brightly at Shiloh even as she screamed in his face but he didn't respond to her taunting. It was Noir who rolled his eyes and stood, grabbing her by her upper arm and dragging her to her feet, "Shiloh, I'm losing my patience with your victim facade. Cut it out before I kick you out."
She turned her nose up at him, pink eyes flashing with a mixture of betrayal and anger before she yanked herself free of his grip and strolled into the bathroom without a word. Only the soft beating of water against the ceramic titles flooded the room as Noir ran a hand through his hair, "I'm going to take her out," He stated a moment later, looking down at Eden and me, "Will you be alright on your own, Estelle?"
I nodded, still a little overwhelmed by the whole situation that had gone down. Luckily, Eden was more aware of what was going than I was, "That is a good idea. Estelle will be safe with me."
"I think it would be best if you just tried to stay out of her way for a while," Noir paused, looking at me, "especially you."
There wasn't much I could do except nod again.
*
I managed to stay out of Shiloh's war path for an hour or so, right up till she was about to leave. I had thrown myself onto my bed and was studying the ceiling – there were little bumps up there that I could make shapes out of occasionally – when her voice graced my ears, "Did you bring any all-white clothes?"
I shook my head, not really understanding the point of such a question. My answer appeared to be the wrong one, however, because the familiar look of agitation over took her features, "How are you supposed to pass as a white berry in yellow clothes? They'll arrest you before you get down the block."
I realized she had a point – I had known that berries outside of their own color were arrested in Bubbleport, I just hadn't thought about it. I had always worn yellow, it was natural to me. I hadn't grasped that it could jeopardize the whole mission.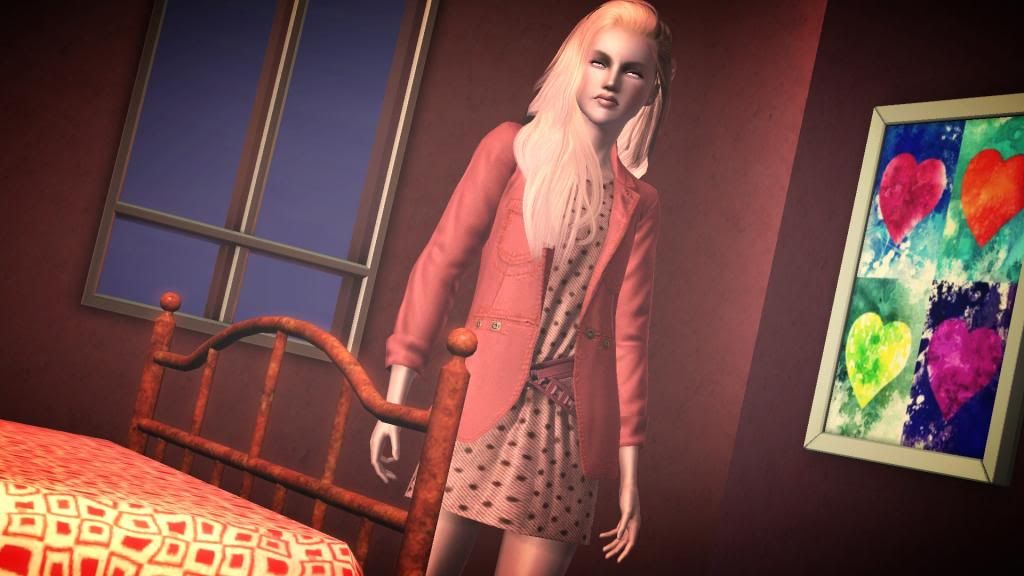 "You really are useless, aren't you?" She scoffed as she walked away.
And for the first time I thought she might be right.
*
I stayed in the bedroom for hours after Noir and Shiloh left, mostly wallowing in self-pity. I had no desire to be in the living room when they returned. Honestly, I was hoping I would already be asleep when they got home – dealing with Shiloh before bed was something I was not up for. Her words hadn't caused me to cry but I was sulking, curled up in the fetal position, when Eden rapped his knuckled gently against the wall.
"Princess?" He called tentatively.
I grunted in response but rolled over so I could see him, "Are you hungry? I could order pizza."
I sat up so fast the blood rushed to my head. I fought off the light-headedness and blinked away the black spots that obscured my vision, not able to mask my excitement. I had always wanted to try pizza but no place delivered to my home back in Sugary Valley. I must have looked like a kid because a smile broke across Eden's usually sullen expression, "I shall take that as a yes." And with that he disappeared down the hall.
He reappeared a few minutes later, leaning against the frame with his arms folded neatly across his chest, "It should be here in thirty minutes." I nodded, my stomach growling it's appreciation at him. I was expecting him to leave me alone again – Eden had never made any attempts to really get to know me personally before – but instead he roamed further into the room, looking at everything but me, "Do you want to talk about it?"
I crinkled my nose, not sure what he was getting at, 'About what?'
He only glanced at me long enough to read my gesture before he was inspecting the bed sheets, "About what is bothering you, Princess."
I frowned and shook my head. Eden seemed to understand since he stood up straighter and bowed slightly in my direction, "Very well. I will be in the living room if you change your mind."
*
Exactly thirty minutes had passed when there was a knock on the front door and I felt my stomach whirl with anticipation. I listened intently as the soft click of the lock sounded and Eden's voice floated to my ears – accompanied by another voice I did not recognize. I stayed in the back until I heard the door open again but as soon as it had slammed shut behind Eden I was rushing out, practically skipping with enthusiasm.
"I order cheese and peperoni," He sounded amused as he spoke, his teal blues glancing at my bouncing figure, "Which do you prefer; I'll make you a plate."
My eyes lit up as he opened the first cardboard box, the scent of grease and cheese flooding my nostrils, 'Both!' I signed in my excitement.
Eden laughed, something I had never heard him do before. It was smooth and cool and I found myself smiling as he spoke, "You can choose what we watch on the telly, if you wish. I'll be right there."
I nodded, pausing as he picked up the first slice of pizza – the cheese oozing, stretching and finally snapping away from the rest of the pie before I managed to pull myself away from the sight. I couldn't find anything on television, though. We didn't get many channels and every show seemed boring so eventually I just gave up, deciding that some unknown indie sci-fi movie was as good as it was going to get.
True to his words, Eden joined me a few minutes later. He handed me my plate before sitting down on the opposite side of the sofa. I took a chunk out of the cheese slice and quickly regretted it, the sweet sauce burning my tongue. I swallowed, fanning my tongue in hopes that it would quell the pain faster.
"Ah, I'm sorry Princess. I should have warned you that it is hot."
I held my hand up to let him know it was fine.
The rest of the meal passed in silence. It wasn't until we were done eating that Eden turned the volume down and sighed, looking me straight in the eye, "I really wish you would tell me what is bothering you."
'Nothing is wrong.'
"I can tell that you are lying." His voice was bland and I frowned.
'How?'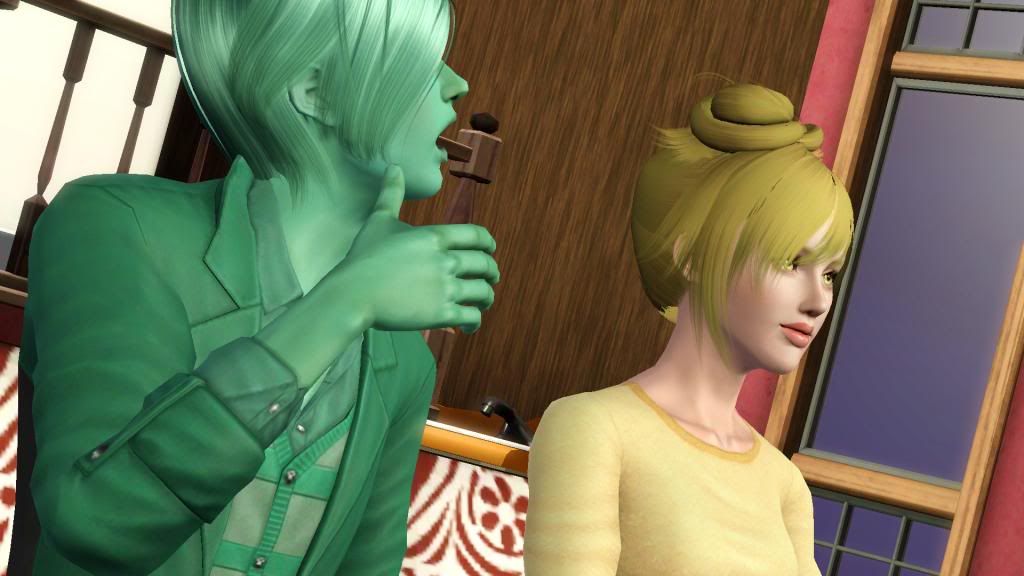 "Just a few minutes ago you were smiling and lively but just now," He paused, trying to find the words to continue, "Your eyes were empty."
'It's silly.'
"Sometimes it is the silly things that hurt the most."
I couldn't help but smile at that, though it was small and I tried to hide it. Maybe Eden was right – talking to someone about the problem might not solve it but it could make me feel better. A little less useless; a little more confident. It was nice to know that I wasn't the only one that let the little things pull them down, 'I forgot to pack all-white clothes.'
"That's it?" His teal brows rose in surprise, the ghost of a smile fluttering onto his lips.
I just shrugged before signing, 'I'm useless. I should have known I would need them-'
"You are not useless," Eden interrupted, suddenly sounding much more serious and stern than he had a few moments ago, "Princess, you have never done anything like this before. Making a mistake makes you a Berry, not useless."
'Thank you,' I signed, stretching out my limbs as I stood up. He watched me carefully as a I continued, 'I think I'll go to bed now.'
"Sweet dreams, Princess. I'll be here if you need me."
I fell asleep faster that night than the previous – most likely because Shiloh wasn't in the room, hovering over me. When I woke up in the morning there was a pair of folded clothes on the dresser next to my bed, a brilliant white against the pink of the wood. The price tags were still attached and as the sleep left my vision, I realized there was a card placed on top. Without ever leaving the warmth of my bed, I reached out and scanned the looping cursive that sprawled across the note.
'I hope these fit you, Princess.'