Bubbleport was huge.
A metal jungle that disappeared into the clouds; the skyscrapers that loomed above us seemed to stretch on forever. The sun had begun to rise, peaking over the edge of the earth but still too low to be seen over the buildings. We were parked in an alleyway, sharp shadows casted over the purple death machine as we waited for our guide. The walls here looked slick to the touch, coated with unknown residue. I was busy looking out the window, disguise in place, wondering why anyone would throw plastic bags and food all over the pavement below when I heard the clicking of high heels.
Noir and Eden were already outside the vehicle, leaning on opposite sides of the hood. When the pink girl stopped in front of them they were ready to greet her, "Shiloh, it's been a while."  Noir stated, opening his arms for her to step into. And she did without hesitation, wrapping her arms snugly around Noir's waist for a bit longer than necessary.
When they pulled apart she turned to Eden, who took her hand and gave it small kiss, "Thank you for securing a place for us."
"Where's this girl you've gone and made such a ruckus about?" Shiloh asked, her heels clicking as she made her way around the men to the passenger side window. Her soft pink hair fell around her heart shaped face, plump lips pulled into a scowl as she gazed down at me. I recognized her at once, as well as the nasty feelings she caused to swell up within me. She had been in Sugar Valley the night Noir had 'kidnapped' me; blown a kissed to him through the windshield.  I swallowed the tension that was building up in my bones and waved to her, smiling. She rolled her eyes and turned on her heels, clicking her way back to Noir.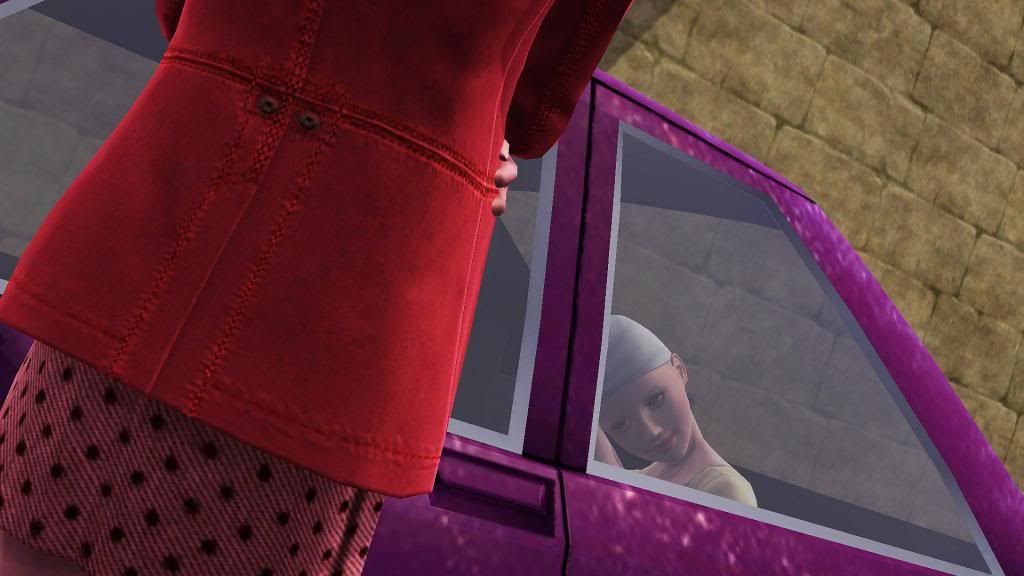 "She doesn't look like anything special." She sneered, though her words were muffled through the car.
Eden looked like he was going to say something but Noir managed to beat him to it, "Play nice, Shiloh."
"Whatever, follow me." Her order came calmly, arms folding over her chest. Noir looked back to my figure in the car to Shiloh before he motioned for me to come out.
It was Eden who walked around, opening the door for me before I managed to get it open myself. Feet firmly on the dirty pavement, I turned back around in order to grab some of the bags that were stuffed in the back. Eden stopped me mid motion, smiling kindly as he took the duffle bags and suitcases out of my hands, "You should not worry about such things. Catch up with Noir, I can handle this."
I paused, always so stunned by how polite and courteous this teal man was to women. His mother must have really engrained manners into him. Soon enough, however, I was briskly walking towards the purple and pink heads that had just disappeared through a greasy backdoor. I followed suit, surprised when I ended up in the middle of a kitchen.
Cooks were decked out in their white chef outfits. The sound of knives hitting wooden cutting boards and the sizzling of food permeated the area. The smells made my stomach growled, reminding me that it had been some time since I had last eaten. Through the chaos and yelling, my attention latched onto two figures that didn't belong and I instantly began moving through the kitchen, trying to hurry towards them. I bumped into a few people and they all looked at me like I was crazy but all I could do was mouth 'I'm sorry' and keeping trucking along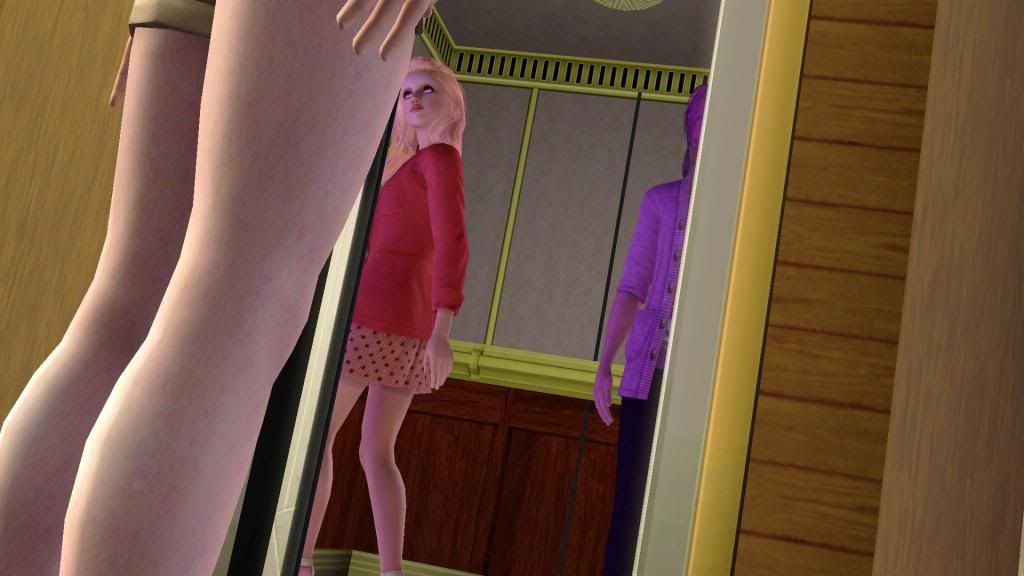 Bursting through double doors, I frantically took in the lobby I had entered. There was a pretty orange receptionist at the front desk. She only spared me a passing glance before she went back to watching the television that hung over the plush yellow couches. I paid her little attention as I realized there were elevators on my left. Shiloh's dainty hand was pressing a button I couldn't see as I headed towards them. I could only watch as the steel doors began to close; too far away too do anything. I could feel the familiar sting of liquid build up, blurring my vision. It was my first day in Bubbleport and I had already been left behind, too slow to keep up.
"Estelle, what are you doing? Get over here." I blinked a few times, clearing my vision, to see Noir's hand resting on the steel doors of the elevator – preventing them from closing. It was silly, really, but the gesture caused my face to light up, my stomach quickly flooding with anticipation as I hurried into the small steel cage.
Once inside, I stood between Shiloh and Noir, squeaking a little when the device jolted and our ascent began. I could feel my eyes grow wider with every beep that sounded, signaling we had climbed another flight.
"You look like you've never been on a fudging elevator before." Shiloh snorted.
'I haven't.' I mouthed and signed, not letting her annoyance get in the way of my fun for the moment.
Shiloh's eyebrows rose as my fingers spoke to her, eyes slowly trailing over to Noir, "What in bubblegum is this girl doing?" She asked him. I might as well have been an alien from the look she was giving me.
Noir found the whole thing humorous, "She's mute, Shiloh. She's using sign language. She said she's never been on an elevator before."
"Oh my berry. Noir, she's fudging useless. What good is she? Why are you putting yourself at risk for such a dumb girl?" Shiloh ranted, voice rising to a dangerously high pitch.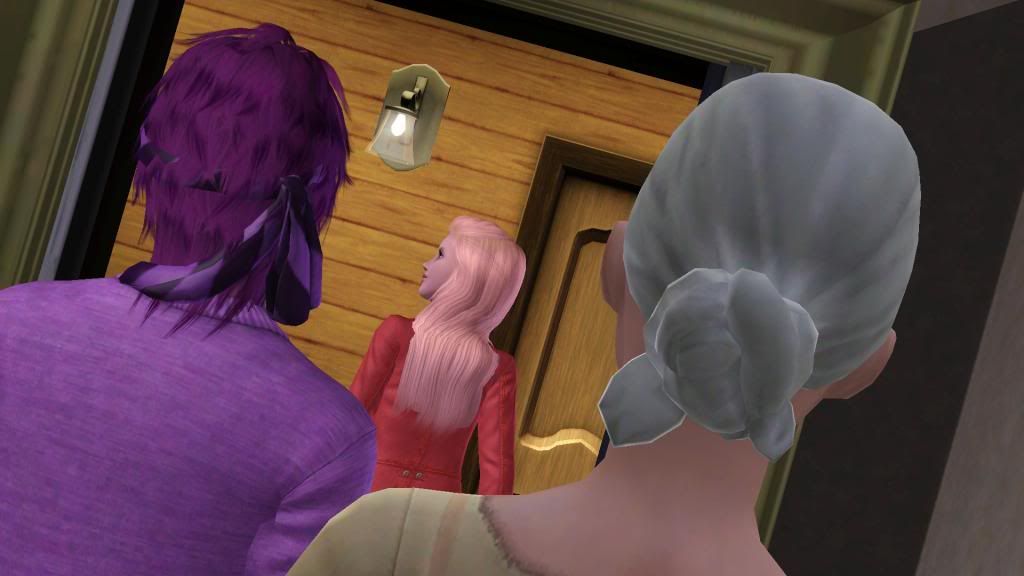 "Cut it out, Shiloh. She's not useless -" Noir was cut off as the elevator dinged, the steel doors opening on the tenth floor. Shiloh didn't stick around for him to continue his lecture. The moment the doors opened her heels were clicking down the marble hallway, only stopping once she reached a room number a few doors down. Noir followed close behind, picking up his suitcase and giving me a reassuring smile before he headed after her.
I followed suit, nervously waiting as Shiloh produced a plastic card and swiped it through some electric device. The light changed to green and the lock snapped open before Shiloh threw the door open and walked inside, "Home sweet home." She welcomed, folding her arms once again.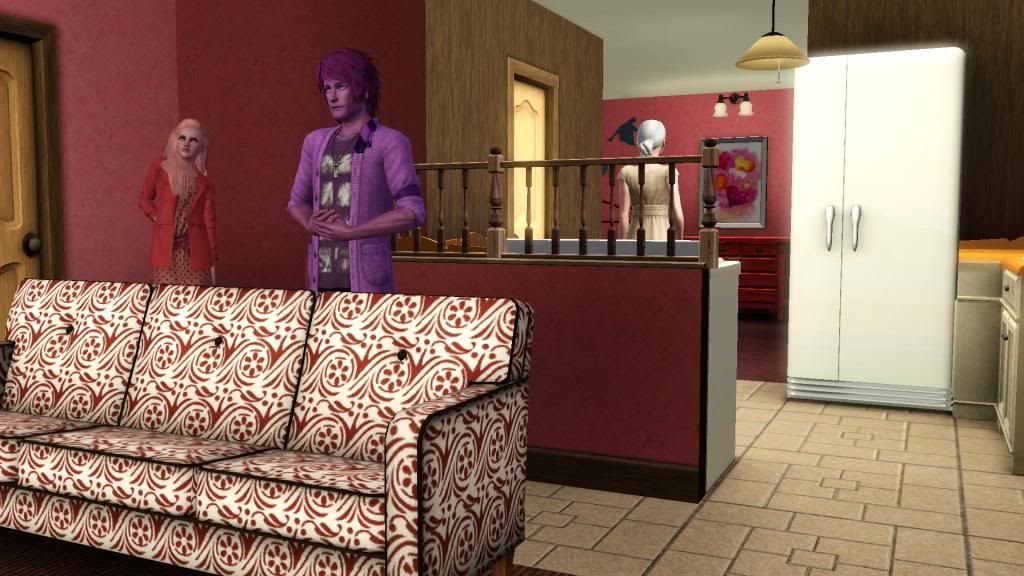 The hotel room was fairly small but had everything we would need to survive for a few weeks – a full kitchen, a bathroom. The only factor that made me nervous was that I only counted two doorways – which meant there was only one bedroom. Noir must have been on the same train of thought as me because he set his suitcase down with a thud before walking towards the couch, "Does it pull out?"
Shiloh shrugged, running a hand through her hair and sighing, "I don't know. Jasper booked the room and paid for it." She dismissed, stepping further inside.
I made a mental note to thank Jasper as I made my way towards the second door on the right, opening it and peering into the sunlit room. There wasn't much inside – two lumpy beds and two night stands. Both beds were doubles which meant I was supposed to share a room with two boys. For weeks. With no one else around. I felt my cheeks glow just at the thought.
"Fudge. No luck with the couch."  Noir declared as he snuck up behind me, his body heat enveloping me in a cocoon of warmth – which, by the way, did nothing to cool my face, "Looks like we'll all be bunking in there."
"Speaking of sharing a room," Shiloh purred, "I'm staying here for the duration of your trip. Someone here needs to babysit the mute while you boys go to work."
Noir stepped away from me, the cool air chilling the skin that had just been heated by his presence. I tried my best not to let her words sting too deep but they lashed graver than I would have like, "I don't think that's a good idea, Shiloh-"
"Aw, why not love? You know how much fun it is to have me around," By now she was sauntering over to him, her hips swaying too much to be a natural.  A sour taste built up in the back of my throat as annoyance began to flow through my veins. I found the horrible idea of ripping her hair out oddly appealing as her arms coiled around Noir's neck like a cobra.
"Shiloh, stop it. We're here on business, not for fun." Noir sounded oddly husk even as he attempted to unravel himself from Shiloh's arms.
She smiled, unfazed by the rejection, "I'm staying. That's final." And before Noir could even argue, she escaped into the bathroom and I swore I could hear the shower start running.
Great.
*
The first night was horrible. Eden refused to sleep in the same room as Shiloh and me, saying that women needed their space and that it would be improper to impose his presence onto us. After a long and drawn out argument with Noir – which I tried to ignore most of – it was decided that both boys would sleep out in the living room. They ended up playing rock-paper-scissors to see who won the couch and who had to sleep on the floor.
Let's just say it didn't end well for Noir.
I thought it was going to be uncomfortable sharing a room with two men. Well, I would have much rather had a communal bedroom with them then with Shiloh. Her constant taunting and complaining was irritating to say the least – not to mention, made it almost impossible for me to concentrate on the novel I was currently reading. I didn't dare tell anyone, though. I had a feeling if I did she would only make my life worse.
Plus, she already thought I was crybaby. I didn't want her to feel like she was right.
I could handle her on my own.